*For English, scroll down*
Het was bedoeld een onbezorgde meivakantie te worden in Zeeland met het gezin, in mei 2008. De zon scheen, het plan was om bij te komen van school en de dagelijkse beslommeringen. Onze lievelingsplek, waar we al jaren met veel plezier tijd doorbrachten.
Niets bleek minder waar. Ik kon geen dag meer opstaan zonder te moeten overgeven en er ging geen dag voorbij zonder schrijnende steken in mijn hoofd. Daarnaast was mijn rechterpupil veel groter dan de linker en weigerde die zich te verkleinen, al scheen je er een zaklamp in. Voor ons gingen de alarmbellen niet meteen rinkelen. Zoals de huisarts eerder had gezegd, geloofden wij dat het best door oververmoeidheid kon komen. Totdat we toch de opticien in Oostburg, in de buurt van ons vakantieadres, even binnen hopten. Vanaf die middag ging het allemaal heel erg snel.
Die opticien ben ik tot vandaag de dag zeer dankbaar voor zijn alerte reactie om mij meteen door te sturen naar de huisarts. Aan zijn reactie konden we wel merken dat hij schrok maar niet veel los wilde laten, in het geval dat hij vals alarm zou slaan. Het bezoek aan de huisarts kan ik mij amper herinneren. Snel werd ik doorgestuurd naar het ziekenhuis in Terneuzen, waar ze een CT-scan maakten van mijn hoofd.
Een uur later, wat ook een aantal uur kan zijn geweest, stapte de beste man in witte jas binnen in de behandelkamer waar ik als 13-jarig meisje samen met mijn moeder zat te wachten. Zonder enkel idee wat ik moest verwachten, beantwoordde ik de vragen die hij stelde over mijn school, het tweetalig gymnasium wat ik toen deed, en mijn vrienden. Achteraf gezien zijn manier om dit gesprek in te leiden, want stel je voor dat je zulk nieuws moet brengen: ik bleek een enorme hersentumor te hebben.
(…)
Dat was het.
Ik ga dood.
"Dus ik ga dood?"
"Nou… uiteindelijk gaat iedereen dood… sommigen alleen wat eerder dan anderen"… was het enige wat ik de dokter nog hoorde zeggen.
Mijn wereld werd zojuist binnen een paar seconden onder mijn voeten uitgeveegd. Ik zal dat moment nooit vergeten.
Die avond hebben we een strandwandeling gemaakt en appeltaart met slagroom gegeten. Ons gezin was verbijsterd en intens verdrietig.
Vanaf die dag ben ik meteen in de overlevingsmodus gestapt, sterk als ik was. Ik bleef altijd positief en rustig, met een sterk vertrouwen dat we hier doorheen zouden komen. Ze zouden mij er niet onder krijgen.
Twee weken later ben ik door een van de beste neurochirurgen in Nederland geopereerd in het Elizabeth Ziekenhuis in Tilburg. In een operatie van 12,5 uur zorgden zij ervoor dat de tumor werd verwijderd. Na 3 weken herstellen en een aantal epileptische aanvallen in het ziekenhuis, mocht ik naar huis. De talloze kaarten, bloemen en knuffels die ik had ontvangen, gingen mee.
Ik heb dit verhaal nooit aan veel mensen verteld, al helemaal niet aan 'de buitenwereld'. Waarom ik dat nu wel doe? Omdat deze periode uit mijn leven heeft bijgedragen aan wie ik nu ben. Net zoals alle ervaringen deel zijn van ons levenspad. Het maakt ons allemaal sterker en het leert ons levenslessen. Ik hoop hiermee te laten zien dat het oké is om je kwetsbaar op te stellen, om je verhaal te delen, om je authentieke zelf te zijn en je eigen keuzes te maken in jouw leven.
Deze ervaring heeft bijgedragen aan wie ik nu ben: een eeuwig optimistische, vrolijke volwassen vrouw van 25 jaar die overal het beste van wil maken. Het gevoel dat je leven afgelopen is, veranderde voor altijd iets in mij. Terwijl ook ik het idee had: "Dat gebeurt mij niet", gebeurde het mij wel. Ineens weet je het uit eigen ervaring: elke dag kan de laatste zijn. Zo leef ik ook. Ik haal graag overal het meeste uit, zie graag veel van de wereld en ik vind ervaringen veel belangrijker dan materie. Maar ik geniet ook echt van de kleinste dingen: een wandeling in de natuur met de hond, de bloemknoppen en de kleine eendjes die ik onderweg tegenkom. Heb jij ooit een lijstje gemaakt van kleinste dingen in het leven waar jij van geniet? Probeer het eens uit. – Ik weet nog dat ik een aantal jaren geleden tegen mijn familie zei: "Ik zal nooit iets doen wat mij niet gelukkig maakt", waarmee ik het over mijn werk had.
Maar nu wordt het interessant, want dat was zo makkelijk nog niet.
Na mijn ziekte en mijn herstel ben ik, zonder iets in te halen, naar de volgende klas gegaan. Ik heb me weer op school en vrienden gestort, ik hield me altijd druk bezig met alle dingen die pubers graag doen, ik genoot van mijn leven. Bijna alsof er niets was gebeurd. Nu ben ik helemaal niet het type dat bij de pakken neer gaat zitten, maar nu ik erop terug kijk zie ik hoe makkelijk ik terug werd getrokken in de dagelijkse bezigheden, in de rat race van de maatschappij.
Ik maakte mijn Atheneum af en ging direct naar de Erasmus Universiteit in Rotterdam, waar ik zonder vertraging een Bachelor Bedrijfskunde en een MSc Business Information Management behaalde. Ik gaf mezelf wel een tussenjaar tussen die twee, maar die vulde ik met een stage en 4 maanden alleen reizen en vrijwilligerswerk doen in Zuid-Oost Azië. Dat was nog eens een periode waar ik levenservaring op deed, voor het eerst alleen reizen, mezelf redden aan de andere kant van de wereld. Reacties van de kinderen die ik Engelse les gaf zal ik nooit vergeten, onbetaalbaar.
Tijdens onze studie werd er veel gesproken over grote bedrijven, ambitie, 'aan je CV bouwen' door nog extra-curriculaire activiteiten te doen zoals commissies of bestuur bij je studie- en/of studentenvereniging. Dat deed ik deels omdat ik het zelf leuk vond, maar deels krijgen veel studenten zo het gevoel alsof ze anders niet goed genoeg zijn. Niet goed genoeg voor die goede baan bij dat grote bedrijf.
Maar niemand zei dat dat ook is wat je gelukkig maakt. Daar moet je zelf achter komen.
Zo geschiedde, ik ging aan de slag bij een prachtig corporate, internationaal bedrijf en verhuisde daarvoor direct na mijn studie naar Dublin. In bijna 2,5 jaar heb ik een fantastische tijd gehad. Ik heb een grote sociale kring opgebouwd, een netwerk dat me niet meer ontnomen wordt. Daarnaast heb ik de overweldigende groene natuur van Ierland ontdekt, een land dat me anders compleet onbekend was gebleven.
In Ierland heb ik ook een opleiding gedaan tot Executive & Life Coach, waarin voor mij persoonlijk ook even alles overhoop werd gehaald. Mijn zelfbeeld en wereldbeeld werden even op hun kop gezet en moesten opnieuw uitgevonden worden. Een heel waardevol proces werd in gang gezet.
Hoewel ik bij een fantastisch bedrijf werkte, merkte ik dat ik toch vaak 's avonds een leeg gevoel had vanbinnen. Er miste iets en dat ging knagen. Het kwam terug in vlagen, want mijn ego wist steeds heel goed alle redenen te benoemen waarom ik zou blijven waar ik was: alle redenen die ons op school zijn aangeleerd, de verwachtingen van de maatschappij, onze prestatiecultuur. Goed bedrijf, goede arbeidsvoorwaarden, financiële veiligheid: ons ego probeert alles om ons in onze comfort zone te houden, want dat is veilig.
Toen herinnerde ik me ineens dat ik had gezegd dat ik nooit iets zou doen wat me niet gelukkig zou maken, iets wat zeker te maken heeft met wat ik 12 jaar geleden heb meegemaakt. Ik herinnerde me het moment dat de wereld onder me uit werd geveegd, waardoor ik weet wat echt belangrijk voor me is.
Ik wist dat er iets moest veranderen en daarvoor moest ik mijn angst recht in de ogen kijken. De angst om niet goed genoeg te zijn, de angst voor het oordeel van 'de buitenwereld'. Om iets te veranderen moest ik nu eindelijk eens luisteren naar de stem van mijn hart en wat die me al lang probeerde te vertellen. Alleen dat leidt me naar een voldaan en gelukkig leven.
En geloof me, dat is alles behalve makkelijk, omdat we niet hebben geleerd hoe die stem van ons hart klinkt, om op onze intuïtie te vertrouwen. We leren om keuzes te maken vanuit ons ego, vanuit ons hoofd. Er is maar beperkte tijd dat we dat gevoel uit kunnen schakelen voor we onszelf op wat voor manier tegenkomen (ziektes, burnouts, stress etc.).
Ik voelde steeds sterker dat dit de juiste weg is en dat niemand anders behalve ikzelf die keuze kon maken. Ik ben toch echt degene die verantwoordelijk is voor mijn leven. Net als jij voor jouw leven.
"De enige die in de weg kan staan van jouw dromen ben jijzelf"
Bronnie Ware is een Australische verpleegster die jaren in de palliatieve zorg heeft gewerkt met patiënten in het laatste stadium van hun leven. Ze zag een terugkerend patroon in wat de zieken met haar deelden over hun leven en schreef het boek: "The Top Five Regrets of the Dying" (2011). In de top werden geen dure auto's of veel geld genoemd.
Dit was de meest terugkerende spijtbetuiging: "I wish I'd had the courage to live a life true to myself, not the life others expected of me". Die komt wel aan, vind je niet?
Zolang jij niet te horen krijgt dat je doodgaat of in de palliatieve zorg ligt, heb jij de keuze hoe jij jouw leven wilt leiden.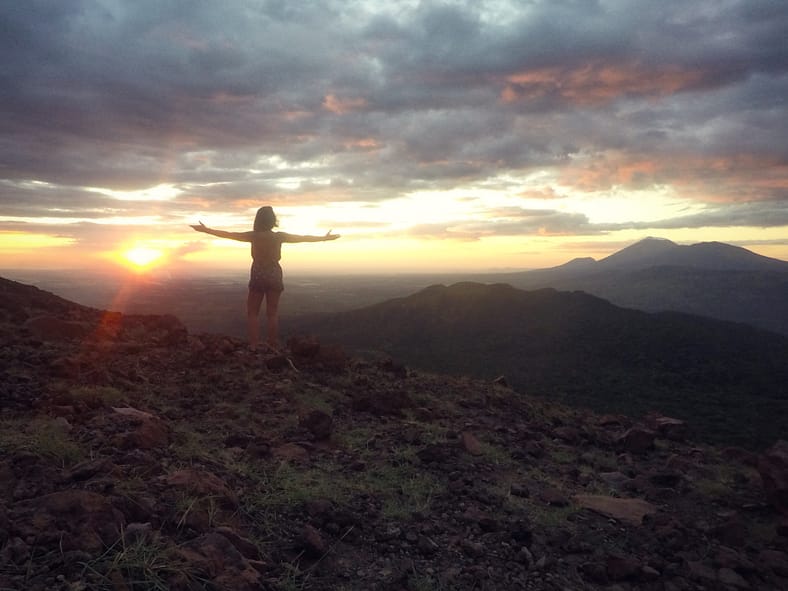 Mijn missie is om iedereen te helpen om hun eigen authentieke leven te leven, om weer wat meer te voelen in plaats van denken en om te vertrouwen op hun intuïtie, want die heeft het bij het rechte eind. Om keuzes te maken vanuit hun hart in plaats van puur vanuit hun hoofd. Om je angsten te overwinnen en jezelf te accepteren, dan zullen anderen dat ook doen. Ik doe dat in groepsworkshops binnen bedrijven en 1:1 in coachingstrajecten.
Dit verhaal heb ik niet eerder zo gedeeld. Ik wilde niet als slachtoffer of zielig worden gezien. Nee, er is absoluut niks mis met mij, ik ben sterk, ik zal laten zien dat ik dit allemaal kan. Gewoon doorgaan, studeren aan de universiteit, werken in het buitenland, mij krijgen ze niet klein.
Maar dat dit soort dingen, die zo uit mijn comfort zone liggen maar tegelijkertijd zo dicht bij mezelf blijven, me nog sterker zouden maken, dat wist ik niet. Trots op mezelf, als een pauw. Iets waar ik voorheen moeite mee had, ondanks alle prestaties.
Iedere keer dat je uit je comfort zone treedt, wordt deze een stukje groter. Ik hoop het voorbeeld te zijn voor anderen om hun verhaal te mogen delen en hun authentieke, kwetsbare zelf te zijn.
Jij mag er zijn. Ik mag er zijn. Samen maken we deze wereld een stukje beter en authentieker.
En weet je wat ik nu zeg als iemand zegt 'iedereen gaat dood…'? Ja, iedereen gaat dood, maar U R ALIVE. (Dus dit is jouw tijd om te voelen en je levensverhaal te schrijven).
Dat is meteen de naam van mijn bedrijf. Ik ben in volle gang met de ontwikkeling ervan. Als je meer wilt weten, houd dan LinkedIn of het Instagram account u.r.alive in de gaten of stuur me een bericht voor een gratis intakegesprek!
---
What did not kill me made me stronger (English)
It was meant to become a carefree family holiday in Zeeland (NL), in May 2008. Sun was shining, the plan was only to rest and recover from school and our daily routines. Our favorite place along the coast, where we had spent so much time during previous years.
Nothing was further from the truth, though. I couldn't get up a day without throwing up in the mornings and no day went by without terrible shooting pains in my head. Besides, my right eye pupil was a lot larger than its left counterpart and refused to get smaller, even if you would shine a light in it. No alarm bells went off immediately for us. As little as we knew, we believed the GP who told us earlier that it was probably all due to extreme tiredness. Until we decided to pass by an optometrist near our holiday home. From that afternoon, everything escalated quickly.
Until today, I am very grateful for his quick response to redirect me to a GP. I can't remember much of that visit. Based on that, he immediately redirected me to the hospital to get a CT-scan made of my head.
An hour later, which could have been hours, your man in the long white coat entered the room in which this 13-year old girl was waiting together with her mum. Without any idea of what to expect, I answered some questions he asked about my school, I did a high level of bilingual secondary education, and my friends. In hindsight, his way to start this difficult conversation. Imagine to bring this news to a 13-year old girl full of life: I appeared to have a huge brain tumor.
(…)
This was it.
I am going to die.
"So I am going to die?"
"Well… In the end, everyone dies… some people just a little earlier that others"… was the only thing I could hear of what the doctor was saying.
My world just collapsed and turned upside down in a second. I will never forget that moment.
That night we walked on the beach and had apple pie together as a family, bewildered and sad.
From that day on, I stepped into survival mode, strong as I am. I always kept positive and calm, with a strong confidence that we would figure this out. I wouldn't let them get me down.
Two weeks later I got surgery by one of the best neurosurgeons of the Netherlands. In 12,5 hours of surgery they removed the entire tumor. 3 weeks of recovery in hospital and a few epileptic attacks later, I was allowed to go home. Many sweet cards and flowers I had received were taken home with us.
This is a story that not many know about me. I haven't shared it with a lot of people, definitely not with the 'outside world'. Why I choose to do this now? Because this period of my life contributed to the person I am today. Like all experiences are part of our life path. It all makes us stronger and teaches us life lessons. I hope to show with this that it's OK to be vulnerable, to share your story, to be authentic and make your own choices in life.
This experience has contributed to the person I am today: an ever optimistic, happy woman of 25 years old who makes the most out of everything. The feeling that my life was near its end, changed something inside me forever. While I also had the idea: "Something like that won't happen to me", it did happen to me. Suddenly I knew from own experience that every day can me my last. That's how I live, too. I like to make the most out of every situation, to travel and explore the world and I value experiences way over matter. I also really enjoy the smallest things in life: like the smell of coffee, a walk in nature with our dog, seeing the flower buds opening and baby ducks following their mother. Have you ever made yourself a list of the smallest things that you enjoy in life? Try it. – I remember I told my family a few years ago: "I will never do anything that does not make me happy", when talking about work in particular.
However, now it gets interesting, because it wasn't as easy as that.
After my illness and recovery I went, without having to catch up with what I had missed at school, to the next year. I got my focus back on school and friends, did the things young adults like doing and enjoyed life. Almost as if nothing had happened. I am certainly not the type of person that sits down in despair, but when I look back I see how easily I got pulled back into the daily routine, back into the rat race of today's society.
I finished secondary school and went straight on to Erasmus university in Rotterdam, where I studied a Bachelor in Business Administration and a MSc in Business Information Management without delay. I did give myself a year in between those two, but I filled it with a fulltime internship and 4 months of traveling and volunteer work in South-East Asia, by myself. That was certainly a period in which I gained a lot of life experience, having to save myself on the other side of the world. I'll never forget the children's responses in the school where I taught English, those were priceless.
Big corporates, ambition, 'building your CV' by doing extra curricular activities such as committees or Board years with your student or study association, were bespoken subjects during my study. Partly I did these committees because I wanted it, it was fun and I got to meet new people, but partly it's done because students get the feeling that they are not good enough if they don't. Not good enough for the good job in the big corporate company.
Conversely, nobody taught us at school what makes one happy. That's something you need to find out yourself.
That's how it worked out. I started my first full-time job in an amazing international technology company and moved to Dublin, straight after my study. In almost 2,5 years I had the best time. I built up a new social and professional network, very valuable for the rest of my life, I discovered the green beauty and wilderness of the Irish country, which would otherwise probably be still unknown area to me.
In Ireland I got accredited as Executive & Life Coach. In order to coach others, it's important to get through that process yourself. My whole self-image and belief system got shaken up. What are my values, what's really important, how do I want to live my life? I needed to reevaluate a lot. A very valuable and insightful process.
Even though I worked for a well-known company, I still found myself at home sometimes with a certain emptiness inside me. Something was missing and it started to eat at me. At times it was better, as my ego is really good to call out all the reasons why I would better just stay where I was: reasons that got learned at school, society's expectations, our performance culture. Good company, good conditions, financial stability: our ego tries everything to keep us in our comfort zone, because that's safe.
Then I suddenly remembered I had said that I wouldn't do anything that does not make me happy, which is definitely connected to my experience of 12 years ago. I remembered the moment when my world seemed to collapse, which has helped me to know what's really important to me in life.
I knew something needed to change and in order to do that, I needed to look fear straight in the eye. Fear of not being good enough, fear to be judged by the 'outside world'. To change something I finally needed to listen to the voice of my heart and what it's been trying to tell me for a long time. That will lead me to a fulfilled and happy life.
Believe me, that's everything but easy, because we simply have not learnt to recognize the sound of our heart's voice, to trust our intuition. Today, we mostly learn to make decisions from our ego, from our head. There is only so much time we can switch off our feelings before we will hit any kind of wall and get forced to face ourselves (disease, burn-out, stress etc.).
The feeling that this is the right path and that nobody besides me could make this choice, got stronger. In the end, I am responsible for my life. Like you are responsible for yours.
"The only one standing in the way of your dreams are you"
Bronnie Ware is an Australian nurse who worked in palliative care for years with patients in the last stage of their lives. She saw a pattern in what these people shared with her about their lives and wrote the book: "The Top Five Regrets of the Dying" (2011). Expensive cars or a lot of money were not amongst the top.
This is the most common regret: "I wish I'd had the courage to live a life true to myself, not the life others expected of me". You can feel that one, can't you?
As long as you don't get the news that you're dying, or you are in palliative care, you have got a choice in how you want to live your life.
My mission is to help people to lead their own authentic life, to feel instead of think a little more and to trust their intuition, because she's always right. To make choices from their heart instead of purely from their head. To overcome their fears and accept themselves, because then others will do the same. I do this in group workshops within companies and in 1:1 coaching sessions.
This story is not something I have shared often before. I did not want to be seen as a victim or sad. No, there is nothing wrong with me, I am strong, I will show I can do this. Just keep on going, studying at university, working in a new country, they won't get me down. But that things like sharing my story, which are so far out of my comfort zone but at the same time stay so very close to myself, would make me even stronger, I didn't know. Proud of myself, like a peacock. Something I struggled with earlier, despite all achievements.
Every time one goes out of their comfort zone, it gets a little bit bigger. I hope to be an example for others to share their story and to be their authentic, vulnerable self.
You are enough. I am enough. Together we can make this world a little bit better and more authentic.
Do you know what I would tell them now if someone would tell me "Everyone will die…"? Yes, everyone will die, but U R ALIVE. (So now is your time to feel and to write the story of your life).
This is the name of my company. I am busy working on it. If you like to know more, please follow the LinkedIn or Instagram page u.r.alive or send me a message for a free consultation. Coaching 1:1 is open for registration.